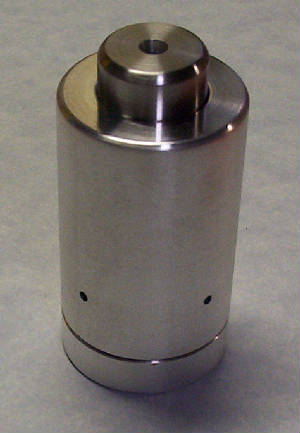 PICONE CUE TIP PRESS
AVAILABLE IN 13 or 14 MM
*** $34.95 + s/h ***
Made from aircraft grade aluminum and tool steel this press lets you press your own cue tips. For many years players and cue repairmen have been pressing cue tips to take some of the mushrooming out of the tips and improve consistency. Most recently many players have been pressing tips to very hard consistencies for their break cues and jump cues. The advantage of the Picone tip press is, it is designed to maintain the shape and integrity of the cue tip.
In the past players have used everything from a bench vice to pounding tips with a hammer in a attempt to make them harder and more compact. The problem is, this kind of crushing of the tip just flattens the tip out, spreading and breaking the leather fibers making for a mostly poor quality tip. By contrast the Picone tip press compacts the tip while maintaining it's original shape.
I made my first tip press for my own use about 20 years ago and over the years have made quite a few for friends. You don't have to be a professional cue repairman or cue maker to find this tool useful. You can use most any tip, Le pro, Triangle or any tip on the market including layered tips to make your own custom hardened tips.
I will also including with the press some information I have learned over the years on pressing tips as well as some methods for hardening the tips.
"Did you know a thousand years ago armor was often made from leather using a boiling process"?
*****************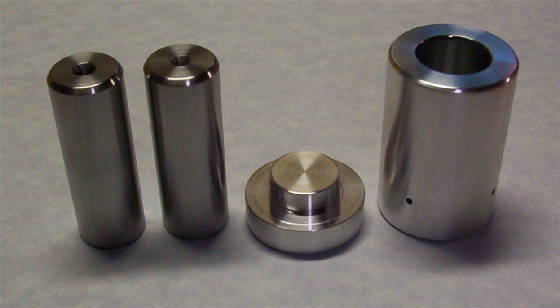 The Picone cue tip press is made up of four pieces. The barrel and end
cap are aircraft aluminum.The two pressing pistons are tool steel.
Visible in the picture on the barrel is one of four relief holes used
to relieve the hydraulic pressure when pressing.